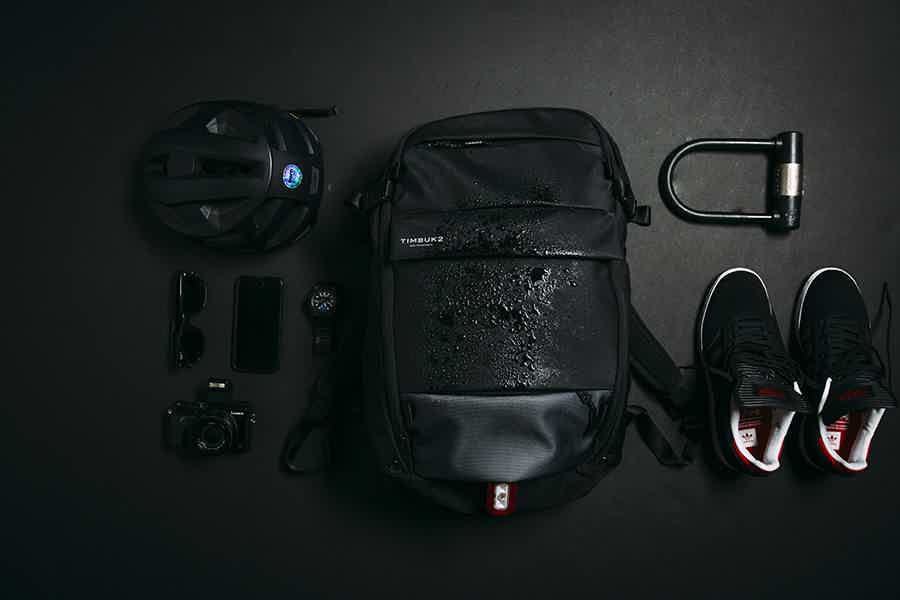 Tip 1: Learn and Invest in Waterproof Gear.
If you want to stay dry while pedaling in the rain, be prepared to become somewhat of a gear nerd. Learn the types of materials to look for and know the difference between weatherproof and waterproof.
The major difference between weatherproof and waterproof bags is in the seams and zippers. These areas are the most important as moisture can sneak into your backpack through seams and zippers and in a downpour, can wreak havoc on your electronics, papers or a change in clothes. Look for taped seams and zippers, which can be found on waterproof bags. Weatherproof bags may or may not have taped seams and zippers.
It can be as simple as that, if you want to stay dry invest in waterproof outerwear, if you want your computer to still work when you get to the office, invest a backpack or messenger bag that is waterproof, or has taped seams and zippers to protect your most important everyday carry items. Some of our favorites are the Especial Scope Expandable Backpack, the Especial Shelter Roll Top, and the Especial Stash Messenger.
No matter how dorky it appears, reflective gear and lights will keep you seen among other cyclists and cars. Stock up on rear (red lights) and front (clear) lights, and turn them on even when it's not dark! The more visible you can make yourself to cars and cyclists around you, the better. Most lights now can be charged with a USB which makes it easy to keep them fully charged while at work or home.
Reflective backpacks and messengers are also extremely helpful to staying seen. As a car approaches their lights will instantly light up your entire backside - no charging needed. (Super pro tip: Want to know how reflective one of our bags are take a photo with the flash on. Boom! All the reflective parts will be revealed.)
Tip 3: Watch the Weather.
Seems like a no brainer, but some storms sometimes only last a few minutes and if you can leave 10 minutes later or earlier you can may avoid the downpour entirely, or at least shorten it. Our favorite weather app that includes up to the minute updates is Dark Sky.
Tip 4: Helmets Do More than Keep your Head Safe.
Find a helmet that has less vents for those rainy days. Keeping your head dry will greatly impact the overall comfort of pedaling through a storm. Helmets and caps can keep you dry momentarily but pending the length of a storm, could get soggy. Nothing is worse than a wet cotton cap keeping you cold - so prepare wisely!
Sometimes in a downpour, some of our other senses are compromised, such as visibility and sound. So on a "bluebird" day when you could easily get someone's attention by yelling "on your left", your voice won't carry with the sound of pouring rain. A bell can easily can get someone's attention, regardless of the conditions, to alert that you are quickly approaching.